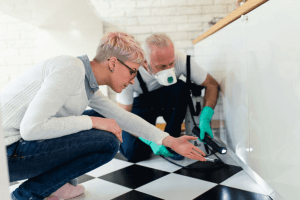 ProControl Management Services Announces Commercial Pest Control Services in Port St Lucie, Jupiter, Vero Beach, Stuart, and Palm City.
ProControl Management Services, proudly serving the communities of Port St. Lucie, Jupiter, Vero Beach, Stuart, and Palm City since 2006, is excited to announce our commercial pest control service. We know that providing a safe, pest-free environment to your employees and guests is a big responsibility, and that is why we are committed to protecting your commercial establishment inside and out from South Florida pests.
Our ongoing commercial pest control programs give you continued protection from unwelcome pests, stopping infestations before they start and spiral out of control. From spiders and termites to roaches and bedbugs, let us protect your Port St. Lucie business.
Call us today for a free estimate and let us put together a custom commercial pest control plan for your commercial establishment.
Commercial Pest Control Keeps Jupiter Businesses Open.
As a business owner, you know your good reputation with your customers is your most valuable asset. All it takes is one breach of trust between a business and a customer for negative word of mouth and reviews to spread far and wide. 
Bed bugs in a guest room? Flies on a salad bar? Ants marching across the floor? When a customer sees any pest control issues at your establishment, they automatically make the assumption that your business is dirty and mismanaged. The results are lost customers, bad reviews, a possible visit from the local health department, and if the problem is not rectified quickly, the closure of your business.
ProControl Management Services' commercial pest control service has the solution to every pest control issue facing South Florida businesses. If it crawls, bites, stings, or chews in Jupiter, we guarantee we have seen and dealt with it before.
Let us provide your business with a customized pest control plan to keep your premises pest-free and open for business.
We know that as a Vero Beach business owner, you take your responsibility to provide a safe and healthy environment to both your employees and your customers very seriously. This includes ensuring that your establishment is free from infestations of pests and from the diseases and illnesses they can carry.
Over our fifteen years in service to the businesses of Vero Beach, we have established industry-specific commercial pest control protocols. No matter what type of business establishment you are operating, ProControl Management Services has a commercial pest control solution to suit your needs. From restaurants and coffee shops to schools and churches, we have you covered with a plan. We proudly service all industries and specialize in:
Restaurants and bars

Hotels and guest houses

Retail establishments

Healthcare providers

Food processing facilities

Schools and colleges

Religious establishments

Manufacturing and warehousing

Property management
ProControl Management Services, We Know Palm City Pests
South Florida pests can be challenging, but the experts at ProControl Management Services have a commercial pest control plan to evict every type of pest from Palm City businesses and to prevent re-infestations. Call us today and say goodbye to problem pests in your establishment.
Pest Control Plan.
Let us customize a solution to protect your business from cockroaches, ants, spiders, and more.
Rodent Control.
If rats or mice have invaded your property, we will remove them quickly and completely and ensure that they do not return.
Bed Bug Treatment.
We specialize in bed bug remediation that eliminates the pests where they live and breed.
Mosquito Treatment.
Our mosquito treatment system repels and kills mosquitoes the first time.
Termite Treatment.
Specialists in dealing with termite infestations. We will stop them dead in their tracks and defend your premises against future invasions.
Fly Control.
Flies in your place of business? We get rid of them fast and for good.
Wildlife Control.
Let us keep rats, squirrels, raccoons, skunks, and other troublesome critters away from your place of business.
Why Is ProControl Management Services The Number One Choice In Commercial Pest Control In The Stuart Area?
An infestation of pests in your Stuart business establishment can cause a great deal of stress and inconvenience. Not only are they a nuisance, but they can also cause structural damage to your premises and carry sickness and disease, putting the health of your employees and customers at risk. Not having proper and effective commercial pest control measures in place is a risk. 
The smartest solution for Stuart businesses is to contact ProControl Management Services and let us implement a customized plan to keep your business pest-free year-round. We are the number one choice for commercial pest control in Stuart because we operate our business with four key principles in mind.
Quality Assurance.
We stand behind every job we do with our 100% satisfaction guarantee. Our job is not complete until your place of business is pest free and safe for your employees and customers.
Trained Professionals.
Because we know that fighting South Florida pests is a tough and skilled job, we guarantee a highly trained and experienced commercial pest control technician on every job, every time.
Our technicians are dedicated professionals and take the defense of your establishment very seriously.
Value For Money.
We know that you expect a lot for your money and that is why we are committed to providing the highest quality of service to our customers at a price that is fair.
You will never have to pay for a return visit on a pest control issue that we handled.
No Job Too Big or Too Small.
At ProControl Management Services, we treat every customer as our most important customer. 
We empower our commercial pest control technicians to take ownership of every job and to do what it takes to ensure the customer's satisfaction. From large multi-location businesses to mom and pop establishments, providing you with pest-free premises is our highest priority.
[press_release_images][/press_release_images]
[press_release_distributions id="83652″][/press_release_distributions]