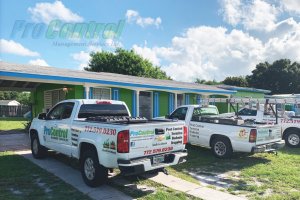 Whether you're in the city or in the country, pests can invade you anywhere. Even in modern, well-maintained places that are impeccably clean. No one is safe from pests such as insects, rodents, or other animals.
Whether they are flying or crawling, insects' presence can quickly become unbearable. They might include:
Wasps

Cockroaches

Ants

Bugs

Fleas

Rats
Beyond the discomfort and unhappiness caused by these insects, they can be the cause of insalubrity problems. Those can have disastrous consequences. Cockroaches, for example, are responsible for the transmission of pathogenic germs. Especially when these insects come into contact with food.
As soon as the first insects appear and in order to contain the proliferation, it is essential to disinfect them. There is nothing better than to protect yourself from such worries in a preventive way. Our technicians provide pest control services to protect individuals and professionals alike.
Why do you need an inspection?
Our quality inspectors are at the heart of our service delivery. They have extensive expertise, broad technical know-how. They also constantly adhere to our good practice policy. 
Quality assurance studies are regularly carried out on the premises of our clients. This enables us to verify that our teams provide the appropriate services. Those are always corresponding to the site's health and safety requirements.
Do you work in the catering industry? The regulations require inspectors to carry out regular inspections. The level of inspection depending on the level of risk that the establishment might put on the market. Rodent risk in particular results in a significant health threat. It may lead to the closure of your establishment.
Private individuals also benefit from these quality assurance spot checks carried out by our inspectors. The responsibilities of these supervisors also include the ongoing training of our technicians. This is to ensure that we remain the best in our field.
Your home is healthy? ProControl Services will issue you with a report demonstrating that the home is free of pests. This can be given to your tenant when you sign the rental agreement.

Your rental property is infested? ProControl Services can offer you innovative pest control solutions for a wide range of pests.
Green Pest Management
ProControl Services is committed to promoting the use of green solutions for pest control. This means that we use chemicals only when absolutely necessary. We choose to take a holistic approach to pest control. The latter includes investigating a potential source of infestation. Then, we provide a solution before we have to use a means of elimination.
We take the subject of using non-toxic solutions very seriously. As evidence of this, we have developed strict principles. They guide our services in the elimination and control of pests.
We inspect your home or establishment to determine the cause of the pest infestation.

We cut access points providing entry solutions to prevent the return of pests.

We track your establishment to detect the potential presence of a pest at an early stage.

We use the right materials to limit the use of chemicals. We use this technique on pests such as bed bugs.

We use pesticides selectively. Sometimes there is no other recourse, but we always turn to chemicals as a last resort. We make sure we use just enough to get the job done.

We get rid of pests by developing heat treatments. Steam treatment methods to let our prevention methods take over.
Our integrated pest management service views pest control as a means of prevention. Not reaction. We eliminate insects and rodents' access points, find solutions that work, and ensure that your property is free of pests and has minimal impact on the environment.
Our pest control services in Palm Beach
Pests are constantly adapting to their environment. Research and development are thus essential to develop new solutions. They enable us to stay one step ahead of all potentially problematic pests.
ProControl Services strives to continuously develop innovative solutions:
Bird repellents using electro-remote systems

Intelligent insecticides

Interactive online information systems
Our technicians will not only treat the infestation. They will also look for the cause and origin of the infestation. This will alow to provide you with the most reliable and long-lasting pest control, disinsectisation and disinfection treatment.
When you choose ProControl Services, you choose efficiency! Whether it is a service contract or a one-off intervention, we offer you the most reliable, innovative and environmentally friendly solutions.
Our commitment to you
We protect businesses, families and their homes from the risks associated with the presence of pests throughout the United States.
We develop innovative and intelligent methods to identify, repel and eliminate pests. In all our operations, the environment is our priority. We develop and use pest control solutions that have the lowest possible impact on the environment.
We strictly follow all applicable health and safety legislation and regulations. Our policies and procedures are aimed at continuously improving the health and safety of our employees and customers.
You can trust ProControl Services
ProControl Services technicians are qualified and certified professionals. Throughout their career, they take part in training programs to maintain their level of competence. Whether it's a food processing plant or your own home, they will be able to offer you adapted and efficient solutions.
Our pest control engineers make every effort to establish a relationship of trust with companies. This relationship is based on:
Sharing information

Raising awareness

Providing advice

Training staff in detecting and identifying pest problems
All our research and development projects are motivated by what our customers tell us about their needs and expectations.
The pest control specialists dedicated to pest control interventions in private homes are trained. They are ready to provide you with a service that complies with safety measures related to the presence of children and animals. Getting rid of pests often requires the use of toxic products or traps. Our technicians use tamper-proof bait stations to guarantee a greatest level of security.
At ProControl Services, we recruit the best talents in our sector within our research and development department. Need our help with pest control in Palm Beach? Get in touch now!